GaitScan Custom Orthotics in New York City
We'll Help Put Your Best Foot Forward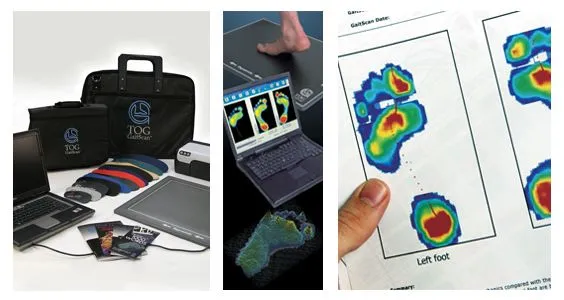 Has foot or heel pain become a problem for you? Suffer with high arches or flat feet? Living with pain on a day to day basis impacts everything you do, and if it's your feet, it can become particularly irritating because of how heavily we rely on them.
At Living Well Medical in NYC, we use the advanced technology of the GaitScan gait analysis system to create custom orthotics for people who suffer with conditions like foot/heel pain, plantar fasciitis, shin splints, and hammer toes.
Call and get information on custom-made orthotics that are built just for you.
What is the GaitScan?
The GaitScan is a diagnostic tool for assessing biomechanics. Many times, subtle imbalances or deformities of the feet are responsible for pain - high arches and flat feet, for example.
By constantly monitoring you while you walk, the GaitScan can give us a detailed accounting of your feet in motion. With that information, we can create orthotics for your shoes that will help correct the issue.
GaitScan helps our medical staff stop your foot and heel pain.
What is an Orthotic?
An orthotic is a device that supports or corrects musculoskeletal abnormalities or deformities. Orthotics for feet generally take the form of inserts for shoes, often to restore the proper curvature of of the arches of the feet. Another common reason for foot orthotics is to more equally distribute weight as the feet are one of the main weight-bearing parts of the body.
Call and learn more about custom-made orthotics at Living Well Medical
Conditions that Can Benefit from Foot Orthotics
Having a set of custom-made orthotics can help a wide range of conditions such as:
Arch Pain
Plantar Fasciitis
Heel Pain
Hammer Toes
Corns
Bunions
Shin Splints
Tendonitis
Calluses
Living Well Medical in NYC
Orthotics are only part of what we do at Living Well Medical. For every patient we see, we design a custom treatment program that fits their needs and their body. The key word is comprehensive. Living Well Medical in NYC has treatments that stop pain and therapies that can help prevent it.
A foot orthotic based on a GaitScan analysis can stop foot pain, but it also helps with balance and can have a positive influence on back pain. Physical therapy can strengthen crucial muscles that support weight in the body. We cover all the angles because we want to stop your pain.
Stop foot pain in its tracks! Call Living Well Medical at 212-645-8151 today!