Neck Pain Symptoms & Treatment NYC
Neck pain is a common condition that millions of Americans suffer from every year. When dealing with neck pain don't resort to using over-the-counter drugs that provide only temporary relief. Consult a physician who will get to the source of your problem. Living Well Medical in Downtown Manhattan uses the latest therapies and treatments for neck pain.
Neck Pain Types and Causes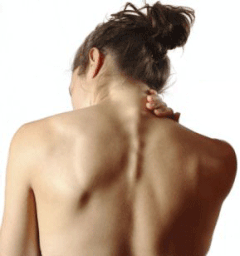 Neck pain can be caused by a number of conditions. Depending on the cause of neck pain the treatment will vary. Living Well Medical uses a comprehensive approach to find the cause of pain and treat it using a variety of options including physical therapy, spinal decompression, chiropractic adjustment, cold laser therapy, the Graston Technique, Kinesio Taping, and pain management.
Pain felt in the neck can come from many disorders and diseases of the tissue including degenerative disc disease, pinched nerve, herniated disc, and whiplash - just to name a few.
Degeneration of the intervertebral disc, often called degenerative disc disease (DDD) of the spine, is a condition that can be painful and can greatly affect the quality of one's life. While disc degeneration is a normal part of aging and for most people is not a problem, for certain individuals a degenerated disc can cause severe constant chronic pain.
Whiplash and whiplash-associated disorders (WAD) represent a range of injuries to the neck caused by or related to a sudden distortion of the neck.
A pinched nerve occurs when too much pressure is applied to a nerve by surrounding tissues - such as bones, cartilage, muscles or tendons. This pressure disrupts the nerve's function, causing pain, tingling, numbness or weakness.
Neck Pain Treatment NYC
At Living Well Medical in Soho / West Village, NYC a multidisciplinary approach helps us provide the highest standards in patient care. Using the latest techniques and therapies, the staff will create a treatment plan designed specifically for you and your pain.
To prevent future injury of the recovered area physical therapy is used in almost every case, especially for muscle pain felt in the neck. Along with physical therapy, the Graston Technique may be used to detect and resolve adhesions in the muscles and tendons, relieving pain.
For those considering surgery to relieve neck pain, our DRX 9000 spinal decompression treatment has been an excellent alternative. Those who suffer from a severe case of neck pain may need pain management to reduce pain with other therapies. Using this multidisciplinary approach combining non-surgical spinal decompression with physical therapy and chiropractic care, Living Well Medical is able to get to the source of your neck pain.
Don't let neck pain control your life, get treatment from an experienced staff. Call Living Well Medical at 212-627-8149 and make an appointment today.