What is Degenerative Disc Disease?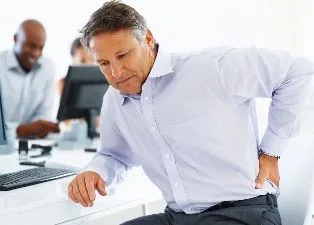 As time goes by and the parts of our bodies begin to age, it's normal for things to degenerate to a certain extent. Muscles generally shorten, joints can start to lose their normal glide, and the collective damage that has built up over your lifetime is more evident. The support structures of the spine, particularly the intervertebral discs, are also typically part of this category, losing their ability to retain water and shrinking. For most people, disc degeneration isn't a problem, but that isn't always so.
For some, debilitating pain that puts a halt to normal activity is a direct result of degenerated discs in the cervical or lumbar spine. Degenerative Disc Disease, or DDD for short, is simply the name put to any degeneration of spinal discs. It is rather a misnomer in that it isn't actually a disease. For patients that are suffering with severe pain from Degenerative Disc Disease, Living Well Medical in Downtown New York City can help you feel like yourself again using only non-surgical means.
Symptoms of Degenerative Disc Disease
There a number of symptoms that are common to a degenerated disc in the spine, but many are shared with other conditions like a herniated disc or bulging disc. As such, only a qualified physician can make a complete diagnosis. That being said, lower back pain that is made worse by sitting is a potential indicator of lumbar disc degeneration. Increased pain when bending, lifting or twisting are also sometimes associated with a degenerating disc. Other symptoms that are sometimes linked to Degenerative Disc Disease include leg pain, numbness, tingling or muscle weakness. If you are experiencing any of these problems, you might have Degenerative Disc Disease.
Treatment for Degenerative Disc Disease in NYC
Although patients with severe back pain are often told by traditional medical practitioners that surgery is the best option, Degenerative Disc Disease often responds well to conservative methods. At Living Well Medical in NYC, our multidisciplinary approach to treatment helps patients get to the source of their aches and maintain a healthy lifestyle that can prevent future pain.
Treatment of Degenerative Disc Disease will often include components of physical therapy, gentle chiropractic adjustment, and non-surgical spinal decompression with the DRX 9000, but the specific treatments we use in your treatment program will vary from person to person. No single approach will work for everyone, so we customize our treatments to your body's needs. In extreme cases, our pain management specialist, Dr. Arnold Blank, MD, can write prescriptions for medication.
Physical therapy and rehabilitation is important to condition the muscles that support the spine. Strength in the back muscles that support the spine can be an important factor in preventing future problems. We integrate treatment with the Spine Force which can improve muscle strength, range of motion, posture and balance as part of a physical rehabilitation program.
Chiropractic care is a core aspect of many of our treatment protocols. Adjustment using techniques like Cox Flexion-Distraction has proven invaluable to our clients who suffer with neck and back pain. Dr. Steven Shoshany, DC, the leading chiropractic physician at Living Well Medical, has been treating back pain in lower Manhattan for over 20 years, providing non-surgical solutions for problems like Degenerative Disc Disease.
Perhaps the most focused aspect of our Degenerative Disc Disease protocol is spinal decompression with the DRX 9000 which deals exclusively with disc-related ailments. This medical device helps increase the distance between vertebrae and gives discs valuable space to transport nutrients and water inside. Patients lie down on a specially designed, motorized traction table that is controlled by computer. A harness that is attached to the DRX 9000 targets the problem disc(s) and stretches the spine to increase the disc height. Over time, spinal decompression is capable of long term pain relief. Spinal decompression will not necessarily for everyone, but only a qualified physician can help you make that decision.
If Degenerative Disc Disease has caused you to lose hope for a better quality of life, let Living Well Medical in NYC work to restore that hope. Call today and make your appointment to see us.