Living Well Medical's Licensed Massage Therapist ( LMT ) can help you recover and feel your best, whether you want pain relief from existing pain, or if you simply want to add massage to your overall wellness or recovery program. Massage Therapy still remains one of the best non invasive options for helping the body relax, recover and heal.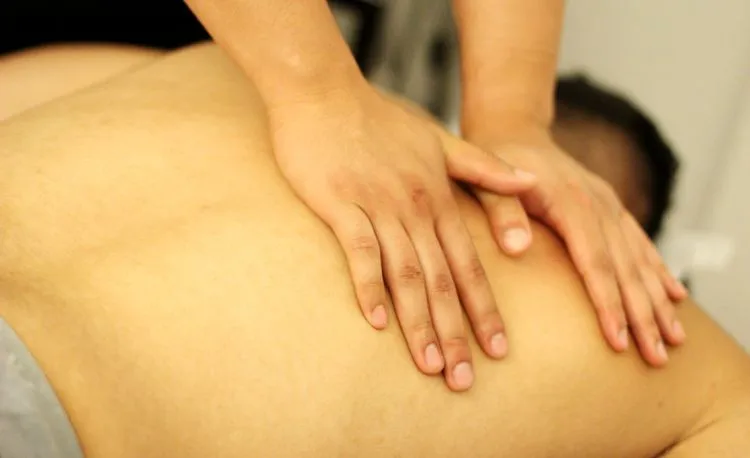 We do not offer a "normal" full body massage, such as what you would get on a vacation or cruise. Massage is usually treated as an integral part of an integrated treatment protocol. The massage technique employed by our Massage Therapist are specific to the patient and their recovery and mobility needs. However, you can always request specific techniques or allow the the therapist to develop a plan that will work best for you. We will do our best to ensure that you leave feeling better and ready to let your body supercharge the recovery process.
Medical Massage Treatment
As part of an overall treatment protocol usually combined with physical therapy and chiropractic care. Medical massage is about finding, and through different diagnostic techniques, finding the cause of your pain. The massage therapist can not only help alleviate your pain but can also offer you pointers on posture, and movement that can help keep pain away well after your visit. Massage therapy can help reduce pain from routine postural distortions to trigger point pain, inflammation, and muscular imbalances.
During the treatment sessions your massage therapist may employ neuromuscular therapy, aiding lymphatic drainage, trigger point massage, PNF stretching, and deep tissue massage among other techniques specific to your condition.
Our massage therapist is experienced in helping treat the following conditions:
Temporomandibular joint and muscle ( TMJ disorder

)
Tennis elbow
Hip pain
Tendonitis
and more...
Deep Tissue Massage Treatment
Weather you are a professional athlete or a weekend warrior, our massage therapist can help get you better and even improve your athletic performance. The benefits of massage for recovery, restoration and rehabilitation are not just for professional athletes.
Sports massage can also be combined with your training program to help accelerate recovery and improve your performance. Many athletes credit sports massage with helping them get to the next level in their training.
We are familiar with many sports related injuries and trauma including:
Patella tendonitis
Hamstring pull
Plantar faciitis
Achilles tendonitis
Piriformis syndrome
Jumpers knee
Runners knee
Iliotibial band syndrome ( ITB )
and more...
It is fairly effortless to add medical massage or sports massage to your schedule. Even one session a month can have lasting effects in helping you reach your recovery, or athletic performance goals. Our massage therapy techniques include medical massage, sports massage, and deep tissue massage.

Our massage therapist is also a certified Active Release Techniques practitioner.

* While we recommend massage therapy for helping alleviate pain and discomfort, this information is not intended to diagnose or treat and a doctor should be consulted before any treatment program or physical activity.