Spinal Decompression NYC Therapy with DRX9000
Spinal Decompression is a nonsurgical, noninvasive, drug-free treatment method for disc-related syndromes of the lumbar and cervical spine. At Living Well Medical, many people have found relief from the pain associated with
and many other spinal disorders.
Spinal Disc Decompression uses computer-aided technology to apply gentle, nonsurgical decompression to your spine. The resulting increased blood flow into the spinal discs and joints helps to relieve pain, remove inflammatory and toxic biochemicals from the area, and restore function and mobility.
At Living Well Medical we use the exclusive DRX 9000 machine, the best nonsurgical Spinal Decompression table on the market.
How Spinal Disc Decompression Therapy Works
Spinal Disc Decompression - an FDA-cleared technology - relieves pain by enlarging the space between spinal discs. Spinal Disc Decompression exerts negative pressure which relieves compression on discs and nerves, allowing the herniated and bulging discs to eventually return to their normal positions.
Spinal Disc Decompression is the only treatment that is most effective for severe cases of disc herniation, disc degeneration, arthritis, spinal stenosis, and pressure on the nerve root. A clinical study performed by the Orthopedic Technology Review in 2004 demonstrated spinal pain relief in many cases of disc compression.
The Spinal Disc
The spinal disc - composed of soft cartilaginous material - separates the spinal vertebras and acts as a shock absorber. Each disc contains a gel-like center called the nucleus and has a fibrous outer covering called the annulus. The blood supply to spinal discs is normally sparse, so if a disc is injured it may continue to degenerate and not heal properly. Spinal Disc Decompression provides the important therapeutic benefit of increasing the height of the disc space, providing more room for the disc and allowing it to return to normal size and function.
Spinal Disc Decompression also causes the disc to heal by stimulating regeneration of the disc cartilage. Spinal Disc Decompression increases blood supply to the disc, providing important nutrients which facilitate the healing response.
Spinal Disc Decompression Therapy at Living Well Medical
To prequalify a patient and ensure that Spinal Disc Decompression will be beneficial, Dr. Steven Shoshany - a New York Chiropractor - will take a complete history, perform a physical examination, and review all data, including MRIs.
Dr. Shoshany is an expert in the delivery of Spinal Disc Decompression therapy. He has dedicated a large portion of his practice to the relief of severe and chronic low back pain and cervical pain, assisting thousands of patients to return to a normal, pain-free life.
Dr. Shoshany holds a U.S. patent on his Spinal Disc Decompression methodology.
In addition to Spinal Disc Decompression on the DRX 9000, Dr. Steven Shoshany's unique approach utilizes a wide range of state-of-the-art evaluation and therapeutic procedures. Living Well Medical patients receive the best and most complete treatment available.
Evaluation and Treatment at Living Well Medical may include
Digital Imaging
Three-Dimensional Computerized Gait Assessment and Gait Correction
Spine Force Three-Dimensional Rehabilitation
Cox Flexion-Distraction
Cold Laser Therapy
Physical Therapy
Oxygen Therapy
Nutritional Support
Custom Orthotics Built with Three-Dimensional Schematics
Spinal Decompression Therapy
NYC Chiropractic Care for Spinal Decompression NYC
Spinal decompression is a treatment that stops bulging spinal discs from bulging outwards. Using linear traction, the technique created negative pressure between the vertebrae and allows the bulging material to retreat back in the disc, and for important nutrition to flood the area. A bulging disc can create pressure on spinal nerves and causes pain. Stop a disc from bulging and you can stop the pain.
The attractiveness of spinal decompression is that it's totally non-invasive. There's no surgery or injection and no need to get to the inside of the body.
Spinal discs are almost like gel filed sacs that lie between the bones of the spine, cushioning them like a shock absorber would. Its not unlike gel inserts that you would slip in to your shoe for better cushioning.
The problem is that there's not always a lot of room between the bones of the spine. A physical injury or the wear and tear of time can cause a disc to bulge or, even worse, create small holes in the disc. Instead of cushioning the spine, the disc is now pressing against bone and nerve and causing pain. Discs can rupture and herniate out and cause interference with the nervous system, and prolonged periods of sitting and lack of exercise increases your risk for disc problems. Naturally most people in NYC are at a very high risk of pain and injuries related to disc bulges and herniations.
Spinal decompression can stop the disc from bulging and can allow the body to heal itself at an accelerated rate.
It works through a series of pulls determined using very precise calculations, as related to the patients bodyweight. It creates a negative pressure on the center of the disc–a suctioning or vacuum effect that pulls the bulge inwards. This also created space for the body's natural healing process to help heal itself, allowing nutrient rich blood to provide healing, and drainage.
You may have tried this on a bicycle tire, pressing on a bulging inner tube. That usually doesn't work because the tube is filled with air. But a disc is filled with a ticker, different type of gel-like fluid, which is much easier to move around and redistribute.
Dr. Steven Shoshany has been expertly trained in the technique of spinal decompression and has been using it for years to successfully treat back pain caused by bulging discs.
Spinal decompression treatments are given on a special table, the DRX 9000. This highly advanced, expertly engineered table allows patients to be get in and out with great ease, and allows for the proper amount of traction to be administered by the attached computer. There are also headphones available for the patient, because the process is so comfortable that most patients fall asleep during the treatment. It also has a sophisticated computer interface that continuously monitors the duration and force of the treatment.
Spinal decompression sessions usually last about an hour. They're not a single-session treatment; it can take up to 20-30 sessions over a period of 4 or more weeks to effectively treat ailing discs. Often patients will feel pain relief immediately, and most find measurable relief after 3-7 visits. Between 80 and 90% of properly selected patients who comply with their after-care instructions will benefit from spinal decompression.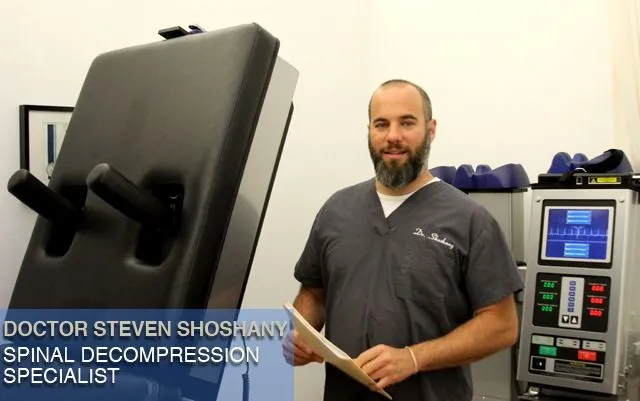 About the DRX 9000
The DRX 9000 is the only system that has earned FDA 510K clearance to be called true spinal decompression. The DRX 9000 is the only system with a documented significant success rate. The DRX 9000 offers precise treatment using a closed-loop feedback system. The unit targets the specific disc level based on video-fluoroscopy studies.
The DRX 9000 uses state-of-the-art technology to gradually relieve compression of spinal nerves associated with lower back pain or cervical pain. The process has been proven to relieve pain by
Enlarging the disc space
Reducing herniation
Strengthening supporting spinal ligaments to help move herniated disc material back into place
Reversing high intradiscal pressure through the application of negative pressure
What To Expect with Your Treatment on the DRX 9000
Your DRX 9000 treatment begins with a series of daily sessions for two weeks, followed by treatments three times per week as needed. Each session consists of 30-45 minutes on the DRX 9000. Following each therapy session, a cold pack with electrical muscle stimulation is applied to assist in the stabilization of the paravertebral muscles.
An upper chest harness / shoulder support is used to help distribute the applied forces evenly. Then you are slowly reclined to a horizontal position. Following the physician's orders, the therapist localizes the pain, makes any needed adjustments, and directs treatment to the proper area. The DRX 9000 helps to mobilize the affected disc segment and begin the process of pain relief and recovery.
Pain associated with herniated discs, protruding discs, degenerative disc disease, posterior facet syndrome, spinal stenosis, sciatica, and failed back surgery will respond to treatment using Spinal Disc Decompression. The DRX 9000 achieves these effects through decompression of intervertebral discs.
What Results Can I Expect from the DRX 9000
After only three weeks of treatment, clinical studies have shown outstanding results in relieving debilitating pain caused by bulging, herniated, degenerative, or ruptured discs; sciatica; posterior facet syndrome; spinal stenosis; and many failed back surgery cases.
Pre- and post-treatment MRIs have shown greater-than-50% reductions in the size and extent of disc herniations after four weeks of treatment with the DRX 9000.
During the initial clinical study many patients reported relief of back pain following treatment with the DRX 9000.
If you live in the New York City Metropolitan area and if you have any questions about spinal decompression NYC, please feel free to email Dr. Shoshany - he will answer all your questions promptly. We provide the best spinal decompression therapy NYC has to offer, but don't just believe us, please do your research and read his reviews.
Email: Dr. Steven Shoshany