Chiropractic Care From NYC's Top Rated Chiropractors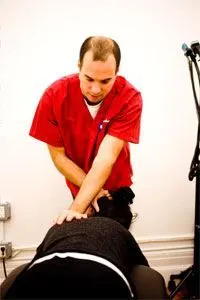 Our integrated Manhattan practice strives to maintain their status as the best chiropractors in NYC. We are dedicated to providing the highest quality care and best service to NYC chiropractic clients.
Living Well Medical specializes in providing gentle, safe, effective chiropractic treatment for a wide variety of conditions. With many years of combined experience, we have treated thousands of patients suffering from whiplash, sciatica, herniated discs, carpal tunnel syndrome, frozen shoulder, chronic pain syndromes, and scoliosis. We have had stunning success with these conditions and many others.
Our NYC Chiropractors are recognized experts in the field of spinal rehabiliation and pain management. Some of our Chiropractors have been a featured guest on the Today show, and our articles on spinal rehabilitation and pain management have been published widely, both in print and in online journals.
We have consistently been rated as the best chiropractic office in NYC.
Chiropractic care involves hands on manipulation of the spine and other joints in the body. The spine is the origin of all movement, and houses the spinal cord, all of the nervous system's impulses originate from here and are then sent out through the peripheral nervous system. When the spine is misaligned, has, or is causing interference to the nervous system, it can cause a lot of pain, and that pain can often radiate out through the limbs.
Whether the cause of pain is a "hard tissue"(skeletal) or "soft tissue" (muscular) problem, both these types of issues can be addressed by our chiropractors. Our chiropractors are also practitioners of ART (Active Release Techniques) and certified Kinesio Taping experts. They are also able to employ IASTM techniques such as the Graston Technique to further address soft tissue adhesion and restrictions such as what are commonly referred to as "knots".
We have a long history of unparalleled chiropractic care, and are widely regarded as an authority on the chiropractic field. Our experts also regularly host open houses, seminars and also engage in Q&A with our patients, as well as blogging, and actively reach out to our patients through our youtube channel. What makes us different is the fact that we use the best tools for the specific issue. In most cases chiropractic care any physical therapy with the right timing of care can ease, and eliminate most forms of pain and injury in most cases. However, we also feature an array of cutting edge supplemental therapies which help speed healing and produce long term results, and save money in the long term.